With Joel and Chris safely despatched back to England we scrubbed the boat and lovely Zoe picked up and delivered 3 loads of washing.
Not knowing if we'd be back in Poros this year, we collected the dog box from our friendly taverna's storeroom and set off early for Loutra on Kythnos. The plan was to pay a visit to a friend of a friend on Paros.
Frisking down the Eastern coast of Kythnos it became clear that many other boats had the same idea…Loutra was full. By now Jonathan on his beefy Jeanneau had caught us up and we all decided to sneak into a well protected anchorage further down the coast. Great…as the daylight blew out we fastened a shore line and swam off the heat.
Supper together was a raucous affair…mainly due to a couple of enthusiastic American brothers, just starting their Autumn Mile-building adventure.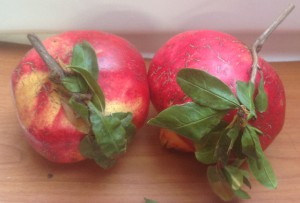 Naoussa beckoned and after an early farewell to Jonathon we jaunted past Serifos and Sifnos and happily anchored in the bay where Kezzie could swim ashore….that was before the wind blew up. Our lovely new friend Barbara drove over to see us but we remained ashore as the rapidly changing wind complicated the trip back to Rope Sole. This now necessitated a knee deep wade plus enthusiastic bellyflop into the dinghy and that was before the actual journey!
The steadily increasing blow gave us a fairground day and night…Simon finding it more fun than me…the new anchor we'd invested in just before leaving Lymington, held wonderfully and in spite of the eerie absence of any moonlight our confidence held too. An armada of sheltering boats disappeared throughout the next morning and we enjoyed a peaceful afternoon of swimming and planning our next move. Another, bigger blow was forecast.
The nearest harbour to Barbara …and the only real option other than Naoussa Marina (given that we wanted to stay on Paros) is Piso Livadi so we decided to move South. We had a great sail down the lovely coastland and arrived to a 'welcome committee' of gusts blowing us off the quay.
The customary mooring angel ( Dutch) appeared from nowhere and after laying all 80m of our chain, Sporty Simon donned flippers and retrieved a well spotted lazyline from the sea bed. Now we felt more secure, though it is always a strange feeling, waiting to see what the wind will do next.
Throughout the next few days we experienced relentless northerlies in the upper twenties with gusts of thirty plus. Trawlers took refuge inside the harbour and made use of the time by refitting new hawsers; smaller fishing boats came alongside the quay and their North African crews sat around low tables, mending their nets and smoking exotically scented substances.
One blustering gustering morning a couple of shortish masts appeared over the breakwater, swaying and rolling in the confused sea. A 9m catamaran scrambled into the harbour and we helped them alongside the wall. Poor things had set out from Naoussa for Naxos but the big seas and squalls off the headland had whipped the sail round the forestay which then ripped away from the deck, taking half the pulpit with it. Considering its age of 50 + years the damage could have been much worse.
Over the following days we had meals on each others boats and David and Ellen proved to be eccentrically entertaining and endearingly genuine. Their fondness for 1960's on-board clutter included a hairy Womble, Singer sewing machine and surface mounted electrical sockets.
Lots of memorable moments on Paros including: a visit from Pyllis and Yannis. This determinedly non- English speaking new friend ( in spite of being married to an American for 40 years) delightedly stood at the wheel whilst re-living boaty memories with his much missed brother, trusting the boat to her warps while we joined new friends for a Sunday worship service in Barbara's home, finding a bakery with seats for outside coffee on a bleak main road…where Belgian Peter suddenly appeared on his motor bike,
chatting to opinionated Bud from San Fransisco, loving his honesty and hugging his partner Jan. And then on the last morning we heard a shout! 'Hey, Rope Sole.' A Dutch guy, calling, ' I don't know why I've come…I just knew I had to.'
Two weeks of blessings, prayers and long walks, a lot of fear fighting ( me wondering if the wind would ever die down and we'd get back to Poros) and not forgetting the first night invitation to onboard drinks with a great bunch of Aussies, one of whom has a friend in Boldre.
Now we are anchored in a little bay near Khilada with just three nights before I fly back with Kezzie. It is October 15 and I have just had a swim. The smokey pink dusk is dawdling over the mountains and this sleepy village will soon smell of supper.
Simon is spending a couple of weeks putting Rope Sole right for the winter then we'll be back in our own Milford home for a while.
It's lovely that you have followed our travels….thank you!