Many years ago wise Christian leaders taught us the value of being flexible…in every aspect of life and relationships. To hold people, plans and expectations lightly. Challenging but this has probably been the best advice we have ever received, especially whilst living 50/50 at home in Milford and on Rope Sole in the Aegean.
On the trip down to Greece we had planned to spend two nights with friends in France, however things sadly changed and we had to think again.
With a little course adjustment we settled on a couple of nights in a lowly converted barn on an Italian hillside SW of Bologna. What a delightful and unexpected treat this turned out to be.
From our elevated perch a myriad of fields skirted all around like swatches of crumpled fabric waiting to be cut and sown. Forests of chestnuts with bright unfolding tips beckoned us to explore higher and Kezzie skipped and tripped across a carpet of last year's prickly shells. I picked a slack hand of wild flowers for the rustic mantlepiece in our room.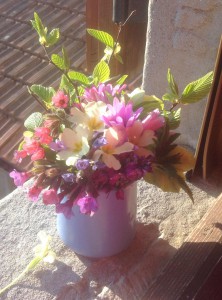 Breakfast was included in the modest room rate and we made our way across a wide courtyard and down some uneven steps to an open dining space with flagged floor, a hungry log-burner and wooden everything else.
Mauro greeted us and produced platters of cheeses and meats with breads, local peach juice and heart shaped biscuits made by his wife. He then barista'd several cups of perfect black coffee while telling us his story.
Everything he needs is found in the village where he lives. His children and grandchildren live nearby and he rarely goes to the city ( in his experience a source of violence and greed.) The farm (our agriturisimo ) produces the pork for curing (3 killed each year) lots of lamb and an abundance of assorted game. Vegetables come from the allotment and olive oil and wine from neighbours and friends. There is a lot of bartering and trading amongst villagers. We asked about education for his children and grandchildren and his arms spun with passion. 'We are all family here,' he explained, 'we take our children very seriously, each of us looking out for one another. This is very important to us.' He cleared our plates and made more coffee.
'At about 10am I need something to give me strength' he suddenly enthused. 'I usually have a white omelette about now….will you let me make you one?' he saw my hand instinctively hover over a well satisfied tummy so addressed himself to Simon.
Well, what could he say….?
We finished breakfast at lunchtime!
I couldn't help asking Mauro if he'd seen the new Pope. The answer was inevitably negative but of course our new friend had an opinion! ' I'm not religious,' he said. But I like this guy, I will listen to him because he's just an ordinary man, like me.'