A long but very pleasing journey from Milford, via a wonderful family bash ( these gatherings are never without incident, this time a pesky little accident which gave us an amazing opportunity to stand together in prayer, a momentarily unwatched Kezzie who mooched off to explore local gardens and Dunc who was provoked by tired kids to utter a gloriously memorable one-liner!) in Guildford followed by a lovely evening with Tristan, Heather and Matilda in Tunbridge Wells…to Patras and onwards to Rope Sole.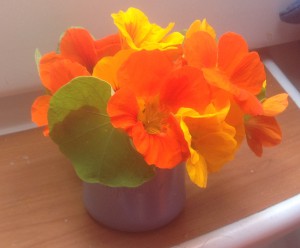 Easter ( Greek ) Sunday evening…that's when we arrived. The smell of roast lamb was heavily airborne and the cafes and tavernas were littered with those ( younger ones ) who hadn't needed to lie down after their feast. A ponytailed ferryman agreed a 20€ tab to take us to Rope Sole, still moored in the bay..was there really any doubt? and we clambered aboard under a half moon of ample light and full expectation of adventures to come.
So now it is Wednesday and the cleaning is mostly done..my new spice rack is secured and the vice is firmly (and dustily) located on the saloon bench, plenty more jobs to be completed while we have water and electricity on the quay!
Our good friend arrived an hour or so ago and Simon was glad to take his lines, however our usually ambassadorial Kezzie let us down badly when she bypassed his sadly forgotten legs in favour of a more savoury pair…some consolation there, if he thinks hard, but she will have to make amends for this faux pas!
My little friend is always a good companion on walkabouts and readily bounds up and down the myriad of passages and alley-ways in and around Poros. We have just returned from a complicated route, taking us up my favourite  chic (in it's heyday) alley where a heavy waft of orange blossom hung above us like an invisible cloak of blessing…and up to where there was a wall of lightly scented wistaria, flagrantly flowing her beauty from behind and then over boundary walls, in full view of us all. Oh crumbs, here we go, lessons everywhere!
A narrow passage with dodgy crumbling walls on both sides gave us intermittent views of the bay. Splashes of early boaters, eager little ferries and moored old-timers with a backdrop of quayside dwellings and rising greenery, topped with windmills. All becoming familiar yet breathtaking with every glimpse. I hope it always stays that way.
This crumbliness of the passage walls suddenly erupted into a delicious frenzy of jazzy nasturtiums …all my least favourite shades of yellow and orange gloriously and haphazardly tumbling yet clinging to a a five metre patch of rubble. Suddenly these lollipop colours became captivating. I greedily picked a handful of assorted flowers and leaves with two justifications. To take a picture for you….and to adorn a salad for supper.
On the way down we stepped over a carelessly fumbling bumble bee and a has-been may-bug, skirted a recklessly overgrown cheese-plant and bumped into an unusually be-suited Greek gent. Time for a cup of tea and one of those strange Italian twisty pastry things we picked up whilst nosing round a mountain supermercato. Hey….that's the Italian story!