Midsummer life on the quay in Poros is both lively and entertaining.
Our favourite spot is stern-to opposite a little cafe owned by a slow, elderly Greek from the 'gentleman' school of hospitality. However this time we lay alongside a friend's boat and closer to the hot spot, frequented by regular flotillas.
Whilst our attention was diverted by the antics of the incoming armada of revellers a little drama unfolded off our bow.
A bareboat of Poles prepared to reverse into a slim slot,whilst the mellow Dutch Skipper whose Bavaria they were aiming for leaned over his pulpit, painfully exclaiming 'don't do it…don't do it!'
Language problems added to those of wind and steerage and the Dutch skipper was proved right. Our Polish friend had enthusiastically laid his anchor straight across that of the Bavaria.
Needless to say the bareboat skipper was forced to extricate himself from a tricky 'chain over chain' dilemma, not improved as a fender slithered from crew fingers and a host of experts shouted ( contradictory) instructions from the quay and surrounding yachts.
I have to confess that I reached for my ipad and videoed the drama…it would have been too painful to remember otherwise.
The bareboat was somehow disentangled from her brief encounter with the Bavaria and with an embarrassment of throttle and indecipherable adjectives,she careered across the fairway.
That was when the fast moving Flying Cat ferry to Piraeus rounded the bend…hooting. The experts' instructions increased in volume and urgency as the bareboaters continued to wrestle with the anchor and the boat's direction….and then they saw the ferry too.
As I said….we have the video…..good to look back and see that the poor Polish skipper and crew made the right decisions, freed themselves and eventually sped away.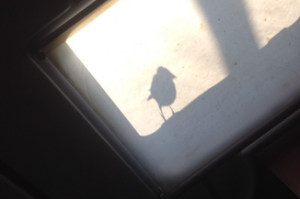 The next morning a small bird landed on the hatch shade over our bunk, it was a beautiful fleeting visit of fragility and calm.
On Tuesday we headed for Porto Heli about 4 hrs or so from Poros. A lovely mooching sort of sail but scorchingly hot. We reminded ourselves that this would be the last passage unprotected from the sun as the reason for this trip was to have a bimini fitted.
In July Kate had randomly bumped into a live-aboard English lass…connection dog as usual…whose husband is a steel worker who makes fittings for boats. Exactly what we needed but for which we hadn't known where to look. The four of us spent a long afternoon chatting and swapping boat and dog tales and we decided that this was a bimini opportunity to be explored.
Measurements were made, an estimate given and dates arranged for meeting in Porto Heli where the boatyard, from which our craftsman works, is situated.
So, on Tuesday we bucked and frisked into the harbour and the afternoon breeze swatted our own stern as we moored to the busy quay.
Three days later, metalwork and stitching completed, 15 knots of wind beckoned us to romp across the gulf from Porto Heli to Plaka once again.
So here we are and the usual beach noises are rising and rising…music from the bar, chattering from the Tavernas and splashing and excitement from shingle and sea. Above all this seasonal brouhaha there is a single word which soars higher than any other….'Papa…Papa!'
What a delightful truth has been mulling in my thinkypraying today. No matter what the commotion, dilemma or danger….no matter what our earthly parental provision may be…we can be sure there is always one word which is rightfully heard …"Papa"