Our little canine companion was wheeled away in her rather large plastic box and we made our way through customs and into the new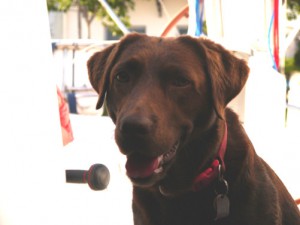 'Queens departure hall.' Very impressive, though a little quiet as the flights are only gradually being transferred to this, rebuilt terminal two.
Heston's swanky cafe beckoned and we enjoyed a warm black coffee with a shared almond croissant of equal temperature. A quick look through his gorgeous black cookbook ( hint) was thrown in to the 'well they do have to pay the rent' price.
Our gate opened for boarding so we ambled down and weighed the usual options of sitting vs queuing and sat…then queued. After some furtive glancing around I casually murmured to Simon that a black squashy bag shoved under a seat near the window, seemed to lack ownership.
With lightening speed…remember the Cretan cats….he made his own sweep of the site and slid away to find a security guard.
Enter Kevin Costner….oh yes girls!
Well, his cousin maybe.
Relaxed yet alert in his elegant 'body guard' suit, Kevin masterfully used hand signals to uproot passengers from adjacent seats whilst simultaneously murmuring into his mobile phone.
Like a seasoned stage manager he held the floor ready for the roadies to arrive….and we all watched with a touch of 'surely not!'
And then.
From the depths of WHSmith emerged one tousled traveller, he made his entrance, centre stage and nervously approached his shabby luggage, casually tucked under a seat.
It would seem that tousled traveller and Kevin had quite a lot to chat about, in the newly opened Queen's building…tt was visibly reprimanded and despatched to the correct gate…not this one! and then our star purposefully strode over to Simon and thanked him for being so observant.
In all the excitement I forgot to get an autograph.
The plane journey was straightforward, though we couldn't help wondering how Kezzie coped with the turbulence.
Simon spent most of the time maneuvering his legs around aisles, trolleys and passing passengers while I wondered if the very lovely Canadian Greek boy with a dislocated shoulder, sitting next to me, by the window…I won't bore you with the life story here…would make a suitable husband for my hairdresser!
The arrivals hall was, as usual, full of eager passengers and opportunist porters….we floundered around, wondering how to retrieve our hound.
Suddenly a door, adjacent to the baggage reclaim, was flung open and a dog box was thrust into the the hall. The door closed and the box silently awaited the next move…like a prisoner exchange, it was weird.
Of course we rushed our cargo past the customs guys and through to the other side. We opened the box and our little friend emerged like a diva to her waiting crowd. Once again we paled into insignificance as her admirers flocked from all corners, exclaiming at her pretty petiteness. We listened to the transport stories of their own pets and learnt about disappearing cats, alsatians travelling to Australia and strays moving to new homes in Brussels. Eventually we all had to vacate the large floor space where Kezzie just wanted to cover us with her ecstatic slobbery joy.
And so we stuffed ourselves into a tiny hire car and headed for Poros once again…..of course catching the last ferry, finding the only available caique and just about locating Rope Sole under a moonless sky.
This morning we have been reading Lamentations and a particular verse struck us.
The Lord is good to those who depend on Him, to those who search for Him.
This is our daily testimony….all the credit for making any headway goes to Jesus.