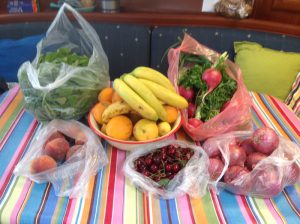 We have just spent a happy few days at anchor, a short rubberdub ride away from yet another quay. This village has a northern and southern side. The north, our preference, has a little harbour around which nestle a goodly selection of shops, cafés and tavernas. The back streets are home to a family greengrocer and an amiable butcher who readily finds bones and chicken carcasses for Kezzie. Fresh Peloponnese fare at its' best.
On Sundays we often treat ourselves to a meal out and the southern side sports a string of tavernas happily perched above a tumble of rocks and hardy shrubs which lead to beautiful clear waters. Fresh grilled octopus, rough local bread and some cold wine make a great feast on this high roost…whatever the weather.
A couple of friendly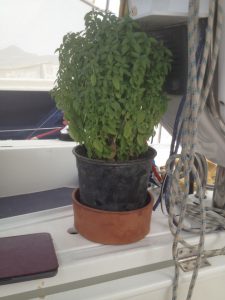 Finnish sailors walked up the hill after bathing from the rocks and told us their story of sailing here for many years but now having to sell the boat. I was struck by the natural, rather mournful lilt of the wife's accent ( we mused afterwards it was the tone of a seal hunter explaining his profession to a vegetarian) ..though she was in no way unhappy. So many interesting accents out here. Before leaving, our friendly couple warned of raw sewage being pumped into our ( north) bay and said they had both been ill, needing antibiotics after swimming there, maybe that explained my eye infection.
The wind began to increase and we returned to Rope Sole. Phew, settled in the cockpit we congratulated ourselves on good timing, stowed some loose cushions and looked around.
From our stern a 47′ Norwegian yacht seemed particularly bouncy..and..close! Staring harder we realised this was no rosé trick but a runaway dragging its anchor and very little chain. After fending her off our port side we jumped into the dinghy and made chase ..managing to keep her from crashing into a French boat with solo owner shouting enthusiastically for her to 'go away!' . Simon rushed me ashore to find the 47's owners while an English co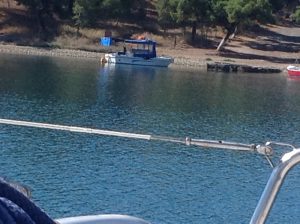 uple, just returning from a meal pursued the bucking mare.
I must have looked fairly alarmed because taverna owners and waiters quickly grasped the problem and surveyed their guests for signs of Nordicness while I ran on to the next group of tables. The Greeks did a great job and I eventually made my way back to the scrap of beach which was to be the rendezvous with Simon.
By now the wind was singing at the top of her voice and the sky was dark and portentous. I smiled, knowing Simon would be congratulating himself on the recent fitting of a little flashing light on the bimini! Hey ho, by the time he arrived to collect me the story had ended happily. The lusty and smiling Norwegians had emerged from their dinner table and taken control of their wayward yacht, returning her to a secure pasture. The Frenchman's boat had been unscathed and Mr and Mrs Moody from UK had retrieved fallen fenders, dismounted the 47 and returned to their own cockpit.
We returned to Rope Sole and Kezzie, still faithfully guarding her home, and relaxed. Just as a skipper-less Bavaria 45 lurched happily towards us, also dragging her anchor. Thankfully he quickly emerged from the darkness in a roaring spluttering tender and jumped aboard to take control. Some shouting and frantic circling later the Russian skipper anchored a long way away.
Simon stayed uncomplainingly on deck, watching into the night while I had a wonderful sleep.