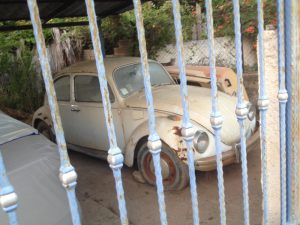 Well we had to move off sometime. Life on the island was becoming too comfortable.
A friendly diver sorted the mooring we share with our salty dog friend and we spent a sociable week in the bay. Swimming, walking the dog, putting the world to rights over greek coffee in our two favourite cafés and enjoying sunset ouzos on deck. Inevitably a northerly blow materialised and after riding out the bumps and sudden rainfall we returned to the quay for water and washing.
We have a great arrangement with our local laundry lass…a cheery phone call secures a pick up on her way home to lunch with five children and husband
(who is conveniently a butcher.) She careers up on one of those motorised buggy things…which incidentally lacks reverse…and will take however many bags we produce…no such thing as too much washing for this lady.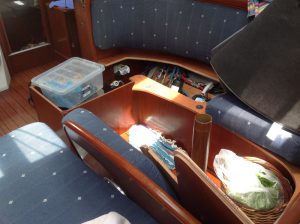 Of course one thing leads to another, an absolutely vital ( aren't they all) job requiring the removal of floorboards ( again) and power ( spin off hot showers) means an extra day ..thus enabling a meet with new friends and cockpit cocktails ( well to be honest, local plonk) with the old favourites. And then there is the grapefruit juice delivery..ahh we know where to hunt it down, snap it up and how to whisk it away.
The most important reason for waiting was however to welcome the arrival of our friends from Athens on a very special 55′ steel ship bringing skipper and crew to the quay for worship, prayer and friendship. We spent an encouraging couple of days together before they headed back for weddings and other assorted ministry.
So finally we broke free and hummed our way down the coast to anchor and re-connect all over again.