Well, here we go…a confession.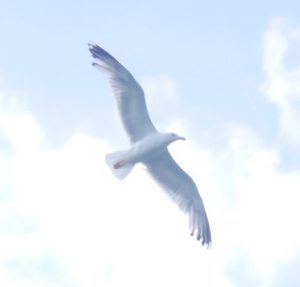 Perhaps this blog has been rather too positive to date. To be honest we have tried to gloss over any problems and highlight the abundance of good experiences we enjoy…because that makes better reading and infinitely better memories. BUT….it is not all easy-peasy sunshine and bon-homie and I should record the odd downside…get real!
Recently we met up with a friend in one of our much loved harbours and spent a few days hanging out; keeping the dog away from the beach ( dogs are forbidden from swimming off beaches from May until September because of the germs they may spread in the water) tucking ourselves at the harbour entrance, away from the flotilla quay and patronising our favourite family run taverna and little  local shop.
Referendum day was quiet, we swam off the boat and noticed something unusual about the overflow for my holding tank…for the loo.
Stupidly…absolutely stupidly…we attempted to release this blockage, knowing that the natural streams within the harbour would quickly whisk away any problem should it occur.
What we didn't pay much attention to was a charter boat of  'Northern EU cousins' entering the harbour, making a 'stern to' mooring nearby.
Suddenly the loo/holding tank problem was revealed and resolved just as our vocal 'cousins' ran to position themselves for a shouting and photographic opportunity.
A ghastly episode of accusations..them..and sorry explanations..us..followed… as the  spillage was quickly washed out to sea and a concrete smashing digger chap continued his noisy work alongside. Phew, there were no fisherman or swimmers nearby. 
We were just regrouping and reliving the awful mistake when the Port Police arrived.
Our fellow sailors had triumphantly taken the story with pictorial evidence to the local office and demanded reprisals.
Oh what a sad day….the chief amongst the 5 charterers wasted no time in telling Simon he'd like to see him in jail and vociferously pushed the reeling Greeks to press charges. Never, the police told Simon, had they seen sailors making this trouble with each other, because everybody knows the yachts empty their loos into the  harbour as most do not have holding tanks. Discretion and not getting caught are the accepted norm about this taboo issue.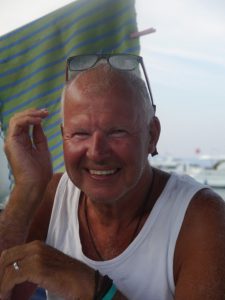 The newly placed deputy PP commander was forced to speak to her superior many kilometres away and repeatedly thanked Simon for his quiet co-operation. 
The next few days were peppered with conflicting requests and statements;  for written apologies in Greek and English, assurances of no further action, removal of our papers and passports, suggestions of fines, then assurances of no fines, for samples in plastic bottles of the water ( perfectly clean) from one of the onboard loos…and, bizarrely,  recommendations to 'just leave'. A visiting sympathetic Greek even offered to call his distant police cousin to intervene!  At one point Simon was arrested and immediately released as a desperate means to ending the saga. Throughout, our taverna friends plied us with fresh orange juice and shook their heads in disbelief. The local-lads Port Police became increasingly tender and friendly as their confusion grew….and at home the referendum took place.
Eventually Simon, whose consistent calm and politeness struck everyone, ( a good job he was our representative!) was  taken to the nearby town by Yannis to pay a fine. An accountant had to be found, a tax number procured and a protocol established. Way after they had motored away from the distress, we wonder who our EU friends were trying to punish.
 We have been well and truly chastised, are shorter in pocket, longer in  wisdom and sadder in the need to watch our backs. We were very stupid to make our mistake and so regret the spillage ( we cannot deny it was yuck) , we kick ourselves daily but happily for all, are now even more fastidious.
Yannis, so friendly and open with Simon delivered him to pay the fine, he explained how Greeks hate rules. We have a seat belt rule from the EU he said…but no-one will make me wear mine!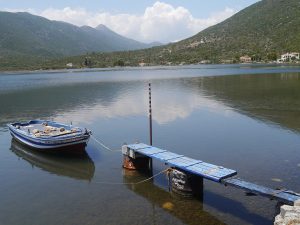 On Wednesday we gently motored into the tiny harbour where we were first given the name Rope Sole…in 2003. An extremely helpful fellow, from the same nation as our recent accusers, happily took our lines, admired the dog and made us very welcome.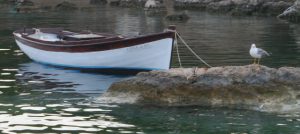 Today, Saturday we are anchored in a (mostly) peaceful and clear watered bay while some jet skiers briefly make an appearance and an industrious guy cleans some pipework from his loo into the sea off our bow.
Hey ho!