A shortish romp of about 35 miles has brought us to another favourite bay. We have anchored here many times before, more memorably in Northerly gales but now under a clear blue sky and in transparent turquoise water. With only one other boat in sight, our little retreat from conversation and harbour bustle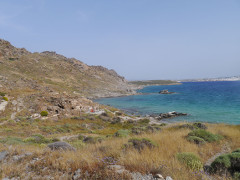 is perfect.
This morning we worshipped and prayed as usual and found ourselves particularly asking for encounters with people God had been preparing. The serious business of testing the water temperature and taking the dog ashore followed and we contentedly drifted into mid-morning.
Simon was fiddling around hoisting our new Greek courtesy flag and I was quietly reading when we spotted a mast, rounding the headland and clearly aiming for our bay. The absolute tranquility was very soon shattered by the noises of rattling anchor chains, high pitched accents of holiday exuberance and bodies splashing into deep water. We looked at each other, decided they had been brought here for a reason and said, 'bless them Lord, to be hungry and ready to know you!'
Kezzie made it very clear that she needed to go ashore, by jumping into the tender, I started to swim for the little beach and Simon followed a few minutes later with the eager dog.
We messed around on the tiny patch of scruffy sand, threw a shipwrecked flip flop for Kezzie and rummaged for sea glass, all the usual stuff. Then from out of the sea emerged a lass from the newly arrived boat.
Treasure, better than any sea-glass! 'Are you a mermaid?' I asked her. Well, just breaking the ice!
She started to chat about this and that and asked about our reasons for being in Greece. This one girl from The East coast of another continent, on a scrap of a beach, on a tiny island in Greece then talked about her loneliness and need of a saviour. Without any insistence or force or threats of hell and damnation we were simply and naturally able to lead our new friend from way across the ocean to Jesus. 'Come and see!' The Father, helper and real companion she so desperately wants.
We hugged and said goodbye then asked about her job. Simultaneously crying and laughing she said, 'I'm a psychotherapist, I try to help people fix their lives.'