Our slower rhythm of day is mostly a real joy. The exceptions are windless,  grey voyages and unrelenting storms but I'm not thinking of those right now.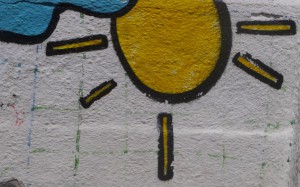 We have just left a small Cycladic island where we spent a happy few days. moored alongside a delightful English couple. Each day brought a fresh catch of international challenges; to our communication skills, as newcomers asked about water, electricity, and weather and to our nerves as these same folk laid and raised their anchors over and from ours. Most yachts move on each day but easy-going friendships can quickly develop between those of us who are less itinerary bound. This is one if the joys of our life out here.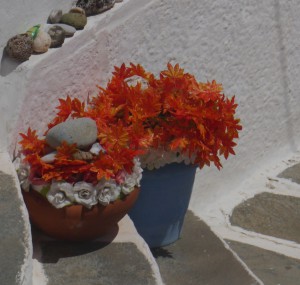 Groups of young men hung around the fishing boats and earth moving machinery each day. There are several modifications being made to attract more boats and visitors and an impressive selection of diggers is being used at random times. After a while we noticed that it is mostly the older men who do this skilled work, no evidence of training the younger ones and the groups gradually disappeared.
Carrefour have opened a well stocked 'express' in anticipation of the new 'marina' and we found one of the two Greek supermarket of previous years boarded up. Now we can choose our groceries from aisles and shelves heaped and piled with a glorious clutter of well loved staples, like breadsticks and capers or enjoy a spotless air-conditioned selection, similar to the stores in France.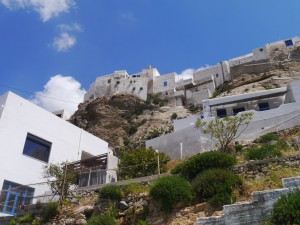 This particular island sports a steep cobbled path from harbour to Chora ( main town ) which we love to climb each time we come, not least for the ouzo-meze with which we reward ourselves at the top.
There are two small establishments in the Chora square and we have always favoured the newer 'cafe type' over the traditional taverna, mostly because the rather shy owner seemed to need the business. He also has more comfortable seating
This time the square looked a little different. Bright blue chairs were happily arranged under the Taverna's bamboo awning and the owner was bobbing in and out with baskets of bread and glasses of beer. His customers seemed particularly knowingly-local and vocal. We glanced across the road to our ( empty) cafe and were surprised to see more blue chairs adjacent to its' balcony wall.
It took a few minutes to realise that this was a rather aggressive taverna tactic to undermine our newer entrepreneur. Like a chess move.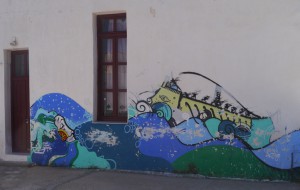 In previous years these two establishments have coexisted and between them, catered for us all….but suddenly one felt the need to be top dog. The ouzo was perfect as always but our sense of being caught between two fires was not. It is the same on some island quays, one taverna will use underhand tactics to lure the majority of customers. Sadly, by satisfying these covers the quality of food often changes as does the camaraderie and friendship of community life. Visitors can sense this and leave the quay with no longing to return.
Now, gently making our way across a wide empty sea it is time to rest my head on Jesus shoulder to ask ' what d'ya reckon Lord?' We have prayed for these hard-working folk and blessed them with a yearning to know Jesus personally. We have given a 'Fathers love letter' of Bible truths to an English speaking shop owner and tried to offer His loving hands of help to other yotties but….with my head on His shoulder I must ask if we have seen and heard anything these past few days which is about us. Perhaps every encounter contains a fragment of mirror…and that is the nudge to change.