Eight days in a familiar fishing harbour and we're off again. This has been a great place to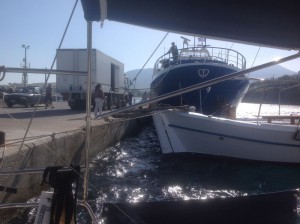 shelter from 30knt winds, especially as we held out against worse than this on the same quay last year. Unfortunately the lazy line which Simon heroically retrieved from the harbour floor in September had again been bitten through by a beefy propeller but with 80+ metres of chain out we felt secure.
The first evening we knew the weather was deteriorating so decided to treat ourselves to supper ashore, whilst it was relatively easy to get off the boat! Maybe I should explain what 'less easy' is. Where the quay is much higher than the bathing platform on the stern of the boat, to which the passerelle [gangplank] is fixed..it is necessary to pick exactly right moment for the uphill run. The plank is likely to jump and bounce from side to side, as the water surges and bursts of wind routinely add to the drama. Kezzie fearlessly wanders back and forth while Simon holds the end with his foot but our weight and height add more spectacle and excitement to the procedure!
The fisherman turned chef/taverna owner who had cooked us a wonderful fish soup in the past was delighted to repeat the performance and we settled down to an array of dips and salads whilst waiting. The fish soup is served as 'hardware' which includes the ( very boney) fish with vegetables on a large separate plate and the broth in a bowl. There is an art to combining the ingredients…and making the whole procedure stretch over a couple of lazy rosé hours. I have to say, we are becoming experts!
Kezzie is extremely fond of cat watching, being admired by enthusiastic waitresses and nestling against our smelly feet so never presents a problem on these occasions.
There are some very appealing characteristics belonging to this little village. It is not on the usual charter-boat run though very popular with land-lovers. The people do not seem to squabble. The atmosphere is one of 'alongsideness' with the little cafes and tavernas accepting passers-by and custom with equal grace. There are no hagglers and harrassers to make walking by an ordeal.
The dusty roads which lead away from the harbour are hospitably lined; with ready to go studios and 'rooms', overflowing scented shrubs, window boxes and tracks to remote dwellings. There are also small holdings of pine trees and random flat hectares of emerging potatoes, occasional huddles of communal rubbish bins remind us of ordinary life but there is a general absence of people, even  of dogs. It all makes for a great stroll to our favourite mid morning spot. The bakery!
From this strategic point we have a panoramic view of a green-turning-brown valley, the main road to nearby villages and distant white caps in the bay. We love to sit outside with an espresso freddo and mini croissant whilst waiting to see who turns up. The owner has been working hard on our informal Greek greetings and calls us Simonas and Katarina. It is a great place to watch and pray…and practice the Greek.
Our main reason for visiting this Cycladic hot spot is to visit our friends Barbara and
Peter who run a little house fellowship with weekly prayer group. I was privileged to spend time praying with believing Greek women who certainly intercede for their country with passion. It reminded me of many similar meetings with Egyptian women in Cairo and Port Said.
For the last evening we treated Barbara ( Peter was in Athens) to a meal in a beachside taverna owned by one of the ( very) extensive local families. We were soon joined by a baptism party for the toddler of an expat family who live in the village part-time. The Buddhist grandma came over to us and explained her delight that they'd found a priest who could accommodate all the beliefs. Many years ago she had escaped from Tibet and walked to Switzerland where she met her ( atheist) husband. Their ( extremely good looking!) son was married to a Greek ( Orthodox)  girl and the guests included English Anglicans and assorted others. They certainly were a happy bunch and the priest clearly had a great night out!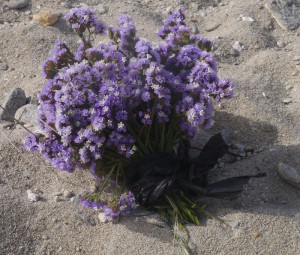 Barbara presented us with a bunch of purple everlasting flowers which she had picked from the cliffs earlier, everyone has these in their homes, hanging around arches or made into wreaths. They look so gorgeous that whilst sheltering at anchor a couple of days later we picked some more and now the boat resembles a gypsy caravan. Simon, who is very patient with my interior decorating has now contributed by making an extremely useful shelf in the galley. Ahhh, the little things!