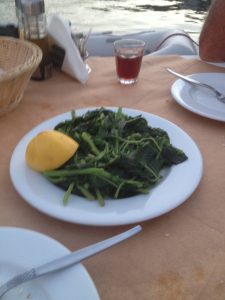 It's strange the way a 'post' creeps up on me…taps me on the shoulder and dances across the page of another writer's show.
So, whilst we are sheltering in a secluded bay, held securely over an oyster strewn sea bed by out trusty anchor and some fancy yellow rock lines…I have tipped out of the hammock where I have been reading and musing and come below to write.
During these very hot and increasingly busy summer weeks we try to keep off the quays. The taverna and shop owners rely heavily on the visiting charterers and flotilla members to eat heartily from their wares and we don't want to interrupt this flow. Staying out of the way suits us all.
So, I am coming to think of this spot as 'austerity bay' as we share our food and water rations and lick the wounds inflicted by our own stupidity, riding out both the hidden and the inevitable maintenance costs of a boat in the Med. Apart from big-boy issues like new hot water tanks, beefy batteries, bizarrely bust bow-thruster switches and a choked up outboard, it's amazing what you don't need … and eye-opening what you miss.
Our diet this w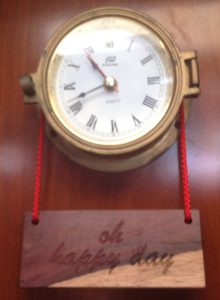 eek consists of afore mentioned oysters scrumped from the apron of sea bed fanning our stern, a kilo of market horta cooked and eeked out daily, assorted eggs, milk and feta plus diminishing supplies of pasta and dried beans. Oh, and some fruit and an interesting melon.
The pressure cooker is our faithful galley mate….thank you mum!
A friend will be arriving this afternoon with bananas ( Kezzie and Simon have settled on a maintenance requirement of half each daily), milk and more bread….strangely the marmite never runs out… like the magic porridge pot! We do eat fresh and well here.
The complex flavours of this bay ensure that our many appetites are well sated and our conversation is seasoned with endless observances and humour. Such a treat to have a constant supply of reading matter, from 99p kindle specials, to saved presents ferried from home in bulging rucksacks to second hand swaps from cafes and assorted others. Back on the island a little art gallery provides a cool cultural pause and the outdoor cinema has just kicked off for the summer.
There is a little ski school down here which labours day and night (yes really) to get her customers water borne. With endless patience, diesel and shouted commands, the instructors drag their eager clients up and down the long stretch of mostly uninterrupted water though occasionally a hapless yachtie will park themselves mid stream.  We have fondly named this enterprise 'Cool Runnings' and assume the students to be Olympic hopefuls.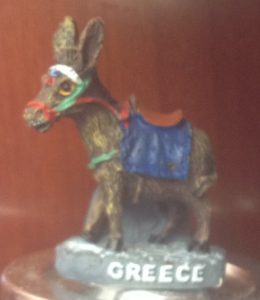 The meltemi has settled into a predictable rhythm now and the afternoon blows usually sort out the casual from the well secured. It is sometimes possible to tell the nationality of a crew by the noise they make anchoring, one particular breed of intrepid off-shore sailors routinely approach their mark and then proceed to purposefully dump 30 metres of noisy chain off their bow before retreating below for a cold beer. Sometime later the boat may stretch its chain..or not.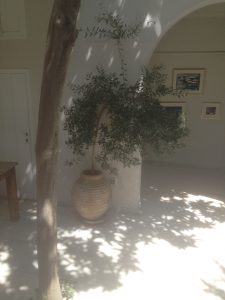 I am adding a few lines after moving back to our shared mooring in the bay. The journey ashore can be rather wet especially these days as it's windy…good to catch up with local folk, many of whom are finding their own austerity measure hard to cope with. A large Greek supermarket chain has spectacularly ( millions€) gone into receivership as the people revert to the old ways of buying from small local shops and markets. Many have family land somewhere and the talk is often of how the olives or lemons are faring. The bread lady reminisced the days when there were just a couple of dedicated bakeries on the island, now there are 14 outlets and mostly the bread comes from the mainland.
A friend brought us a gift of fresh sardines, checking, before handing them over, that we would cook them in a manner worthy of their magnificence. He too has a heart full of worldly woes but regularly takes his kids to sit on a bench at the water's edge, simply to gaze and ponder over 'this, the most beautiful place on earth.'