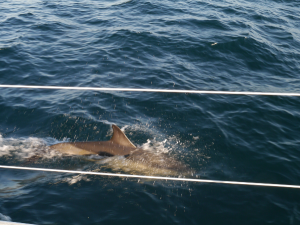 Saturday April 20
At last Rope Sole pulled out of Weymouth Harbour at 10.45. With12 knts of southeasterly breeze the cruising shute went up and the engine was silenced.
Sunday April 21-Tuesday April 23
Crossing the channel, countless shipping lanes and encounters with trawlers. The ships log records squalls, course corrections, puffins, porpoises, shooting stars, TP seasick, Charlie nauseous and awesome sunsets.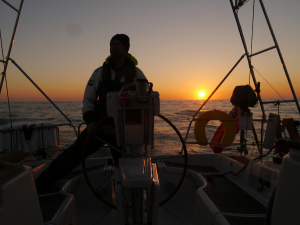 Log records…SOC 66.6, power failure, E7 stopped, engine battery drained.
This was a mid Channel challenge which involved pulling the forward cabin apart and switching the bow-thruster battery to the engine…in very rough seas.
Somehow throughout this week TP had managed to cook bacon for breakfast every morning and produce great meals during the day.
The sailing was challenging and the seas rough but, as Charlie commented, it was as though there were 4 people on board not 3.
Friday April 26
1500 hrs arrived Cais Cais
Charlie's home port! A welcome arrival, fuel running very low, Charlie and TP out of cigarettes and everyone needing a shower.
Great to be here after long first leg. Sad to see TP leave on Sunday but good to welcome TB back…even though Ruth had to rouse the security guard by phone from UK to let him inside the marina gates…Simon having fallen soundly asleep onboard.