Early morning Kezzie walks always yield a bounty of local knowledge and usually a few flowers too.
Today we woke to an early chill which slid rapidly earthwards as the sun triumphed from Australia onto yet another Aegean blue canvas. A perfect remedy after a little night time fretting and some strange dreams.
Today the sniff meter went off scale and Kezzie read every message, forward plan and physiological detail left by the canine population of this mainland harbour. Handy for me as it slowed our progress and made a good scout around less conspicuous.
A short string of homely cafes fringe the road which leads to our quay and even before 8am elderly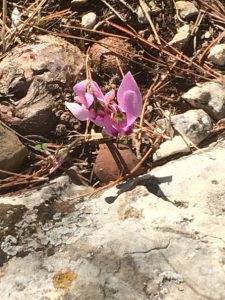 Greek gentlemen are scattered like pearls amongst the ageing metal tables and chairs. Each quietly sipping a strong coffee and easing, from slumber to socialising, as seamlessly as yesterday and the day before.
We skip across the narrow, puddly alley which leads to the tourist jostle of shops and acknowledge the smiley lady who lowers her hose for us. Passing the bank we notice a teller poised behind his tough screen and a colleague juggling euros on his computer in the front office.
Life is slowing here and there are plenty of yellow 'for sale' signs slapped across the windows and doors of empty properties. However, it is good to see the week-en
d opening times for the kids amusement park, optimistically posted at the gate. 18.00hrs-23.00 hrs! Opposite are two gleaming new cars on a gravel stretch, parked amongst near wrecks. A German plated Kia and a Greek Audi.
Next door to the park is a knocked-together pair of low ceilinged dwellings. Both doors are surrounded by mismatched pots of exhausted plants which nevertheless manage little winks of red and pink. Kezzie happily waits outside while I duck and enter the cramped grocery emporium in search of sheep's milk yogurt. So hard to concentrate inside as the shelves are loaded with everything we don't need, yet still demanding much roaming of eyes and examination of piled paraphanalia….all jumbled amongst the tins and packets of food.
Sadly I am too late in the season for homemade lumps of olive oil soap but happily emerge with my bowl of yogurt and a slack hand of bananas for Simon and the dog.
Gently strolling back to Rope Sole for breakfast, Kezzie tugs at a delicious sniff spot lying directly under a neoteric swathe of white jasmine. The exotic scent is as fresh as a spritz of cologne and I shamelessly snap a few sprigs for the saloon.
The fragrances of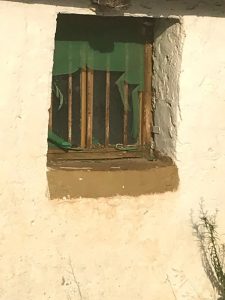 Greece are a constant delight, wafting from unexpected sources, sealing memories of place and time. Now comes to mind a particular aubergine growing village where there is a road with many bends. Easy to recall a couple …the first has a warm aroma of lavender, pine and bitter herbs with just a slender under note of goat whilst the second is bright with dill, wild thyme and orange. Both delight us with each visit.
At this time of year one of the most pleasing aromas is that of warm pine needles, deeply embedding autumn bulbs such as cyclamen and intoxicating to walk through. We even catch the fragrance whilst approaching from the sea.
Today we are attending to some end of season tasks, like cleaning the dinghy and removing and
washing the main. The jib can stay put as we'll use it to sail across to the boatyard, after the forthcoming blow which the forecasters are currently toying with. Meanwhile an interesting selection of liveaboards is gathering, like an anticipation of Brent geese and a lively exchange of wind predictions is currently flowing along the line….just like home.