The Greek islands have long been treasure boxes of talent and on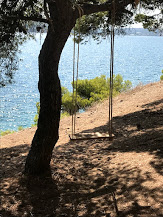 e of the joys of spending generous dollops of time here is the hunt and discovery of the artisans and entrepreneurs who quietly develop and display it
Since the economic crisis in Greece we have seen the closure of many businesses. Each year, little shops, once an integral part of the community, are boarded up or have their windows covered in a fading spread of newspapers.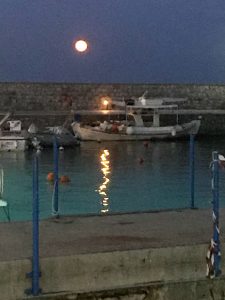 In others stock is not replenished, the space between remaining products becoming ever wider, the dust thicker and the owners more dejected as they sit in doorways, watching nobody come in. Our hearts go out to these folk but the few purchases we try to make from them contributes little.
For years we have been supporting a traditional and long standing hardware shop, home to decades of accumulated household goods, useful but these days mostly unwanted. Here many oil bottles and preserving jars compete with vintage aluminium pots and a few token ceramic frying pans. This, bizarrely, is where we recently unearthed enormous comfy cushions for sitting on the bows in an evening breeze. Sadly we fear for the future of the owner, Mister Michaelis, as the local supermarkets increasingly make space for similar wares.
From under this rubble of demise however there is a new and optimistic streak of creative enterprise. Next-generation kids are investing (somebody's money?) in new stock for the family store, trying to cater for touristic taste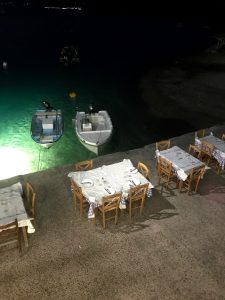 buds by adding wholegrain pastas, regional cheeses, oils and honey plus refill gaz bottles and of course bags of ice. We see them working long hours and going out of their way to serve, loading trollies with provisions and wheeling them to boats and car boots. These are the folk we and others also try to support and they reward us with friendly greetings and enthusiasm.
There are also the more quirky entrepreneurs for whom I have an especially soft spot.
The potter tucked away in a simply planned shop in a Cycladic alley…this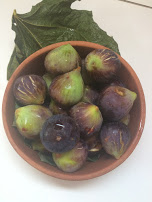 multi talented lass explained to me the path of her artistic career, from an art college in Athens to Tasmania to Australia and now back to the island of her parent's hotel. Her exquisite pieces have already won prizes and she is currently resisting suggestions that she outsource production to China. I bought a tiny pot brimming with story and skill, hoping to revisit for more.
Closer to the Peloponnese there is the brother and sister business selling a wide range of herbs, spices and intriguing combinations of the two. I love to take visitors and curious tourists to their fragrant hub where grammes of this and that are weighed into crackling cellophane packets for transit. Where mountain tea is jammed into baskets made from painted twists of newspaper and three different honey flavours can be sampled before the vital purchase is made.
Recently the amateur performance of a drama in which the sister played a shrieking and petulant Greek widow, was called off, due to torrential rain. Always something to talk about.
The last creative friend I'll mention here is one to whom I'll pop in whenever a random making-notion of my own needs a little airing. Maria's winters are spent making. Making, experimenting and fabricating. She rustles up dishes and bowls from cement, coloured pale, chalky and interesting. Natural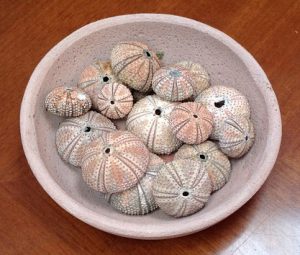 cotton is dyed, washed, faded and sewn into bags for pulses, rice and other dry goods, larger ones for shopping and laundry. Sisal is crocheted; olive oil and beeswax are spun into creams, lip salves and soap, shaving cream and exfoliators…all are displayed upon shelves and benches made from reclaimed pipework and wood. I love it all. Gradually this friend is gaining a little foothold amongst the 'others' of us who admire her determination and originality. A pale pink bowl of fragile cement is well wrapped and ready to come home and in turn my friend is enjoying the stripey cotton dishcloth cum facecloth I knitted for her. The exchange of passion and ideas is a regular delight and I always come away from these new friends inspired by their creations. There are many people who can make your heart sing, just by spending time with them.