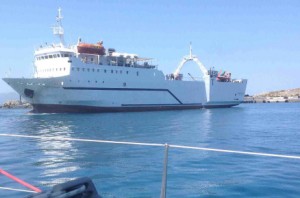 An early start from beautiful turtle inhabited Monamvasia saw us joyfully bursting out of the harbour into a wide open bay with full main and jib. The spring sunshine hovered around us and we spent a few glorious hours romping down the Peloponnese coastline; reading, singing and quietly finding peace with our world.
It was one of those  opportunities for sideways glances and mullings at our lives as we purposefully steered South.
Our destination, Dhiakofti, a small port on Kythera eventually appeared on the horizon and we gratefully took down the sails and prepared mooring lines and fenders….well I rushed around like a wacked mosquito while Simon maintained Captain's Composure! Motoring inside the harbour revealed an industrial looking quay hosting a modest German Bavaria. Not quite what the book said.
However with a flourish of lines, cleats, grunts and gestures we swept alongside and Kate leapt ashore…..pushed?…no…firmly encouraged!
Immediately the German Bavaria crew, who presented as a kindly old sea dog, started worrying us about his water  ( lack of ) situation. The Captain ( no skippers in Greece) was on reconnaissance in the rather distant cafe. We were on the point of a helpful idea when, with a crunch of scattered gravel, the Port Police arrived in a dusty Nissan X Trail.
He was agitated.
"You must go…you must go…"
NOW!!!
We believed him and after politely suggesting he hold our aft line while Kate jumped aboard…we bow thrusted our way off the quay.
Well….this proved to be exceedingly well timed.
We turned to look back as the Bavaria pulled away…everything flailing and seadogs shaking….the once a day ferry from the mainland swept in mercilessly and it's gaping jaw crunched and bit the exact spot where we had been lying.
What to do?
(This could be a long post!)
Clearly…proceed to next harbour.
Our trusty pilot, one of the precious few 'real' books to which we allocate shelf space, assured us of another little gem, some ? miles away. ( a point to mention here is that Katie is learning to add at least …2hrs and 1+knt of wind to all Simon's ever optimistic predictions.)
Happy with the penetrating warmth of sunshine, Kythera coastline and our own company we motored into a gentle breeze, anticipating a ferry free night ahead.
So…the next piloted harbour ….unfortunately full of fishing boats….so we made for the last option with the sun growing weaker and the wind dropping. By now a catamaran was pursuing us, having presumably followed in our tracks. We slid into the harbour, Kapsali, and with the help of assorted French and Italians made fast…just as the catamaran swept inside. Well of course we all moved along to accommodate them….and I had a nice chat with the Belgian guest ( curiously sporting tight white hot pants under his also-white trousers) on board…generously offering to let them win the next race.
So today we have been appreciating a little rest … Well not exactly as we hauled ourselves up the hill to the Hora…or main town, which also boasts a ruined Venetian castle. So long as Kezzie can swim before and after these excursions she seems ok. We seem to need a little ouzo to complete the hikes.
It's a bit cloudy this afternoon though lots of locals are swimming plus a reckless group of kids are hurling themselves off a flight of old steps..like we might have done a few years ago!
Altogether a very lovely place to be….and a perfect harbour from which to hop over to Crete…probably Chania. Where we hope to meet up with TransMed friends,  and various locals with whom they have made contact.