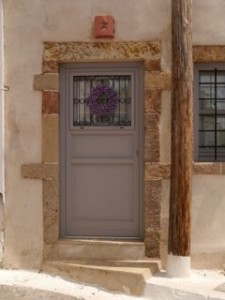 May First is a special day here in Greece….a national holiday.
On Poros the streets were filled with promenading families and the Tavernas bulged and overflowed happily onto the pavements. We were inadvertently drawn into the gaiety from out position on the quay and Simon's job list was made less arduous by the general air of 'Welcome to Spring.'
Many folk still decorate their homes and businesses with wreaths made from mountain or wild flowers and as I made my way 'over the top' to a little swimming shore with Kezzie the variety of decoration was delightful.
We decided to join the celebration that evening by eating tiny local cod with beetroot and garlic mash at our dear friend's Meze Meze. Not as crowded as we'd expected though, due, no doubt to the exuberant lunchtime festivities!