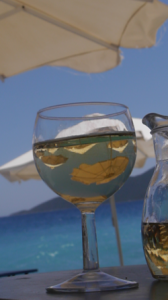 This hospitable little fishing village is fast becoming a favourite destiination for us. It was lovely to bring Tristan and Heather here and watch them unwind after a difficult year.
The harbour is best surveyed from the balcony of Baba Yannis' taverna whilst his nephew Tomas buzzes back and forth…each dish enthusiastically presented as 'the best'…whether it is a basket of bread or his beautifully cooked fresh fish!
A short stroll brings us to the sort of pebbly beach where each stone is so beautiful that you want to bring it home…as though the stripes and splashes of colour are telling their own stories, which we can interpret.