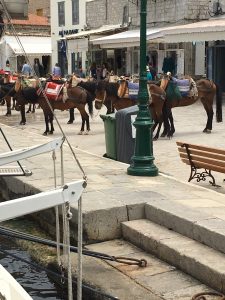 The main harbour of Hydra must be the most action packed watery enclave in Greece. From the very first rays of sunlight to the threes and fours of an already exhausted am this little hub positively thrums.
We arrived on a cloud of optimism one mediocre Wednesday at 10.30 and secured the last place on a quay heavily laden with weary pack ponies and patient donkeys. A cheerful lad took our lines and we snubbed the anchor, happily anticipating a relaxed early season stopover before heading East.
Our good humour was almost immediately challenged by a steady stream of hefty charter boats who proceeded to double park across our bows…6 in all. We were hemmed in!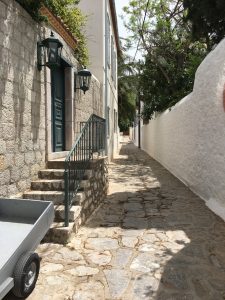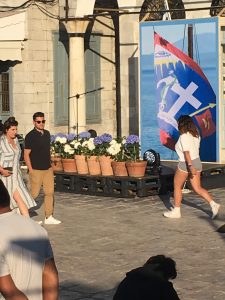 The next couple of days were such fun that we extended our stay to three. The mayoral and EU electioneering we had already witnessed on the mainland was nothing compared to the nightly performances from the trio of candidates here. Preparations commenced each mid afternoon as stages were set…either in front of a significant taverna or bank, pots of flowers were strategically positioned, speakers assembled and microphones endlessly tested. On the first night we though
t nothing could
surpass the musical overture, seating arrangement and splendid backdrop but the second optimist easily trumped this in every way. By the time the final scene was set, on Friday night, everything looked more magnificent: a dozen potted hydrangeas across a splendid stage, symbolic backdrop, emotive music and men in black with walkie talkies. We witnessed an extraordinary speech, much applause with hooting and whistle blowing approval from an extended gathering. The cockpit couldn't have given us a better view though the high-rise motor cruiser next door but one had an obvious advantage and the owner's brother in law repeatedly rushed up to the bridge to sound the ship's horn in admiration of several particular points.
We caught a few key words from the
night's hero….notably, Hydra, euro, homes, tourism, America and Syriza. Not however, enough to work out which party was being represented.
One of the very laudable qualities of the organisers of Greek festivities or public events is their ability to completely remove all traces by the morning. We have frequently noticed this happen in public squares, tavernas and after beach weddings. No exceptions here.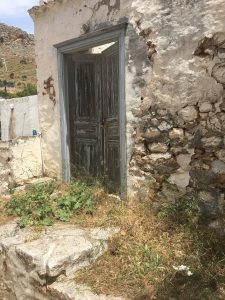 Whilst Simon prepared Rope Sole to slip from the harbour at 6 am, Kezzie and I had a last backstreet stroll. All was quiet and tidy with fe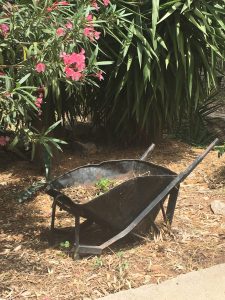 w clues about Island life, save for the painted handcarts parked outside matching coloured doors, a few long suffering donkeys quietly waiting in cobbled yards and some posters of three handsome wannabe mayors.