Sitting on the bow, decks splattered brown with Saharan rain. I am watching a fishing
village roll through Saturday hours like children in long grass.
The quay is idly slung with scruffy day boats, scuffed but usefully awaiting a steady grandfather or his cocky son.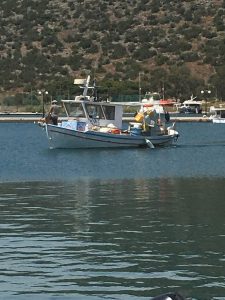 Larger, though no smarter vessels occupy alongside positions whilst their owners focus on greasy engine parts and convivially bend over unruly nets.
It is quiet save for the hum of worn cars executing endless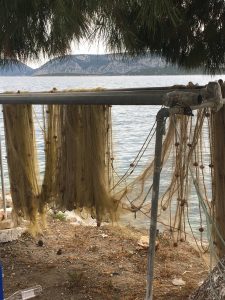 local missions of collection and delivery, of shopping and visiting. Ignitions left unattended, exhaust slipping into sea breezes and all the while who cares.
We recently welcomed the arrival of an Irish gentleman who managed his hereditary portion of luck and charm with soft vowels and gentle inclinations of head and hands. His diminutive Scandinavian sloop slid alongside as we took his lines and lowered our fenders. He seemed so touched that we failed to comment as he straddled our anchor chain…. but hey we're not perfect at this game either! So we chatted easily about books, (even swapped a couple) then of his daring expedition from Dublin to The Med.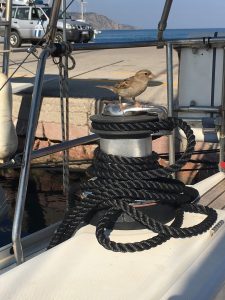 These days swifts are seeking partners and new homes in this beautiful verdant cove. One swoops and shimmers beneath our bow, closely pursued by an admiring lover…and then there are three. Suddenly a quartet becomes an orchestra and a silent symphony of dancing sparkling feathers, beaks and tails plays just for my eyes. And then is gone.
It sounds like paradise and today, for those who thrive on typical harbour life it certainly is.
Not always so…last week and the one before belonged to a regular chartered armada of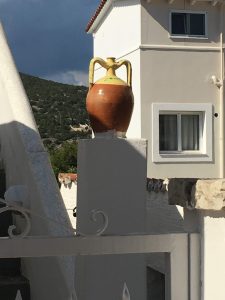 Eastern European sailing boys and their high spirited partners. Scores of 12-18 metre yachts and catamarans filled the local straits as they charged round the cans and yelled at the organising rib crews. At night they poured into the local harbours (60+ were counted here), took massive deliveries of vodka and beer and boosted the buckets beneath the tills. These events always surround May day but there was much
relief that nationalistic displays of flags and the blaring of anthems, as witnessed in previous years, were kept under wraps.
We often meet Russian and Ukrainian families, always enjoying conversations in broken English and general helpfulness but as with many large groups there is little interaction and definitely no eye contact with this competitive lot.
Our hearty lunch of boiled beetroot leaves and stalks, topped with grated raw beets,
orange chunks and walnuts is wearing off. Time for a walk.
The dark side of life on this quay, the shadowy hours past bedtime, we only know in part. We are frequently yodelled out of a short but deep sleep by a couple of over ouzo-ed lads or
unselfconscious lovers having a high-pitched tiff. The background notes of optimistic fishermen, poised and peering for hours while tiddlers play night games, generally erupt into departure rumbles of car doors and extended 'see you tomorrow' farewells.
Simultaneously and regularly at 3am, a couple of faithful little fishing boats fire up and leave their safe base for another session of sitting in deep waters. Through the night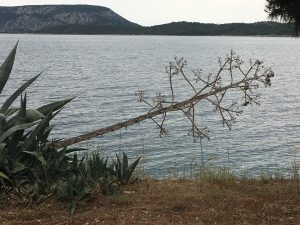 the clock chimes the hour and dongs the half.
It can be with great relief that we herald a new day with Earl Grey at 8am, always faithfully woken by a wet nosed labrador invading our pillows.