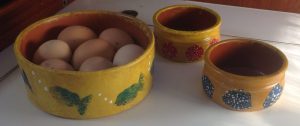 Sitting on the mooring like a couple of dazed chickens we were thinking, chatting and reading our way through the first day of rest after several weeks of activity.
Suddenly, the ferry, which had menaced its way to the quay, through a gaggle of rather too closely anchored yachts, let out a demanding hoot. Calling her tardy passengers out of the bakery queue to sprint for the ramp before it was raised for the return journey to Athens.
Like an incorrectly clipped jump lead the imperious siren had the effect of sparking my sun-drenched brain to life and I suddenly remembered a slack hand of recent incidents and people, as a bucket of treasures dredged from the deep.
For starters there's the brother and sister who last year moved back to the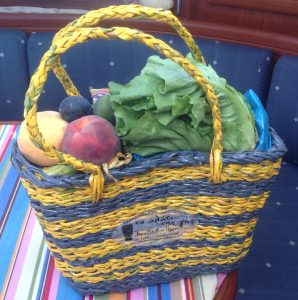 island, optimistically leaving careers in Athens to start a business sourcing and promoting local products. They have made me a basket from twisted strips of newspaper, painted and varnished then plaited into shape. I ordered yellow and grey and it's so appealing that, once completed they had to fend off eager shoppers until I could collect it. The tiny shop has shelves covered in jars of herbs, beans and mysterious culinary combinations…chatting to the sister always yields a good story.
Maria was giving me sound advice about preparing mountain greens ( horta) when she suddenly launched into a reminisce about her 'proyaya' ..every weekend the extended family enjoyed a traditional meat meal together, otherwise their general fare was seasonal fruit and veg. One memorable sunday great grandma surveyed her plate and lamented, 'I've been eating these things for a HUNDRED years!'
To the shocked family she declared her intention of now expanding the range of her diet. For the next three years she chomped her way through every conceivable combination of other foods. Chinese, Indian, Mexican, Fusion, Irish, Sushi…whatever her bewildered family could purloin. Maria mischievously recounted how her beloved projaja had triumphantly expired at the age of 103 after summoning the whole family, consuming an enormous roast dinner and retiring to bed.
The weekly farmer's market is a favourite destination of ours and we relish the rotation of seasonal produce which rolls through heaped crates of golden citrus fruits, a brief flush of strawberries then on to apricots, melons, grapes, plums and now fat sticky figs. And that is just the fruit!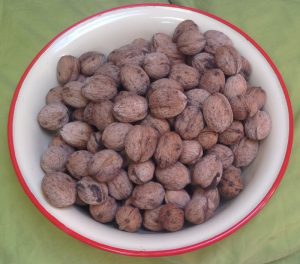 Here we catch up with a particularly chatty smallholder who is always so pleased to see us. Last Friday was no exception. Spiros has the usual Greek tricorn of topics at his fingertips, food, politics and religion. We lingered on the first as always and he proudly imitated the sounds and gesticulated the size of his fat organic cockerels and hens. He pointed to the pannier of a retreating scooter …there's one in there he said…'order only!'
Sadly, Spiros, explained there was no oregano 'rigani' from his land this year due to mum's broken hip and therefore her inability to harvest it for him.  Then, via a 'pfoof!' to current affairs Spiros plumped for the third topic and wanted to talk about prayer.
'What!' He could hardly believe his ears! 'You don't have no icons…and no idols?' Gasp. 'Then how can you pray?'
'You don't go to the mountains?' More gasps. 'Then how and where can you can you do it?'
When I explained that talking to God is an all the time, anywhere and everywhere aspect of our relationship he was quiet and moved on to talk about love.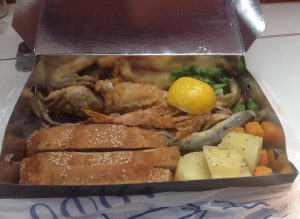 Another memory concerns our return to Poros after a particularly rompostrous family fortnight sailing across the Argolic and back in fun-fair seas, to regroup, restock and reacquaint. With next to no food on board and not much inclination to cook we were suddenly assailed by a couple of lovely new friends who flung a 'doggie box' of restaurant lunch leftovers in our hands before dashing off to catch the hydrofoil back to Athens. What a surprising and luxurious feast that was.
Mustn't forget the kitten! Earlier in the season Salty dog had set his heart on a ginger kitty, patiently prepared to wait for the appearance…from who knows where…of just the right one. 'I'll know', he had confidently declared.

With no little satisfaction he chose, only a week ago, a tiny ginger tom from a gorgeous litter of five which beamed into life under old rugs, behind a pile of cretan pots, in an alley, next to a pizza cafe. So now the teenage rascals ( see previous post) can add kittysitting to their cv.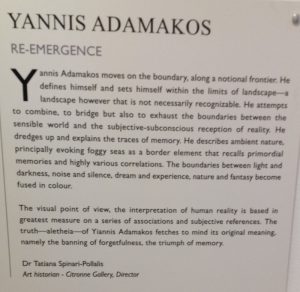 I must just mention the annual Art exhibition. Such a treat to look forward to and this year was as delicious as any other, particularly enhanced by the courtyard setting of some works and notebooks beyond the simple gallery. From a previous show I still remember an enormous painting of softly weathered rope carefully coiled around an old Sampson post.
Nothing to top that but the plaque describing the artist's work caught my eye and made me chuckle.
Lastly, for this post, we were recently handed a bag of books from a regular couple of swappers who pop back and forth from their orange grove to traditional little village house to anchored boat. Most were volumes to pass on but there was one gem which I fished out and have just finished. The author is Australian Charmain Clift and the autobiographical work concerned her family's attempt to escape the rat r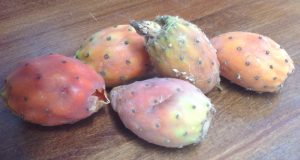 ace by settling on Hydra….in 1955. Quite the most extraordinary piece of writing and a fascinating insight to the irrevocable changes wrought by tourism out here.