The first walk of the season is always the best. Today we ambled our way along the quay, past a raggle taggle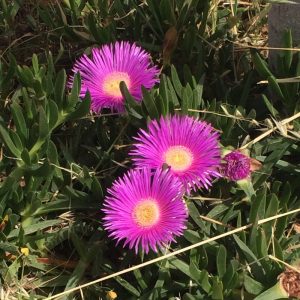 of international yachties and on to the flotilla of charter boats receiving a final wash and brush up before the imminent arrival of guests. A bounty of flora slowed us down and we stopped and stooped to admire flaming bushes of bottle brush, enormous pink mesembryanthemum type flowers and casual pots artily placed against south facing walls.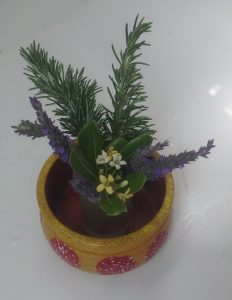 Climbing the hill revealed a bold emergence of soft yellow phlomis, french lavender and deep red poppies. The latter prompting our conversation and spontaneous prayers which were also much influenced by the award winning film 'Dunkirk' we watched last night.
These are the days of quiet anticipation in Greece. Easter weekend brought many visitors to the island, families returning home and city folk looking for food, festivities and some serious strolling. Good Friday was filled with the solemn and mournful tolling of bells and the weather provided a dreary backdrop. Around 9pm the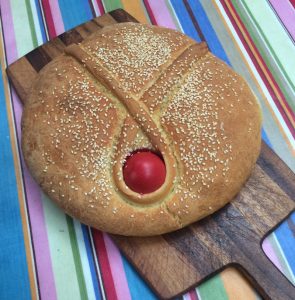 churches had spilled hushed congregants onto the streets who then processed to the square bearing a funeral byre containing an effigy of Jesus. Firecrackers could be heard exploding, all over the island and the mainland beyond with alarming frequency, much to the delight of their youthful owners. Dogs responded with startled barks, terrified howls and cowering woofs. Kezzie seemed strangely unperturbed so long as she was snuggled up close to us. We watched from our table in the cockpit where we were sharing a simple supper of sausages, pasta and some horta. It was moving to see so many ordinary folk of all ages, openly witnessing to their faith.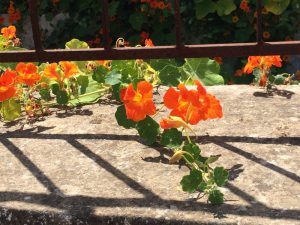 Saturday seemed fairly slack until midnight when an eruption of celebratory bells announced Christos Anestis, He is risen! Sunday was a releasing and happy day of feasting on roasted lamb and enjoying the company of loved ones….happily for us salty dog took the lamb responsibility seriously and we enjoyed his fine on-board ho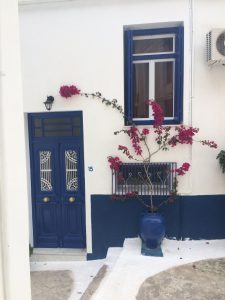 spitality yet again.
So now in these post excitement days we can mooch our way up the hill and admire the natural beauty of wind-seeded flowers, pause to consider the roadside memorials of accident victims and gaze seawards where a solitary yacht is gliding towards monastery bay.
I am delighted by the fresh bright scent of roadside dill and gather a slack hand of froth to add to our daily salad. Kezzie remembers this road well and refuses to bypass the little strip of 'beach' where she has often cooled down.
Three random benches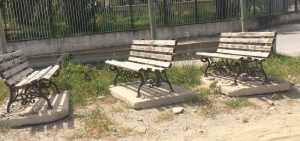 have been brought from elsewhere, concrete bases intact, and positioned like seats on a bus, by the roadside, so Simon sits and patiently waits while the dog swims and I rummage for bounty along the waterfront.
This little stretch has been used as a dumping ground for builders rubble for many years. It is regularly flattened and rollered smooth but always yields a treasury of broken tiles and sea glass. Perfect for collecting and storing and making into wots and nots on a cloudy day.
So on we go, slowly and chattily, unaware of passing time or whingeing job lists. The shops have sensibly closed for lunch and even the lone tutoring yacht has stopped practicing her stern-to's for a quick beer.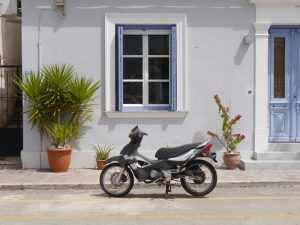 Yanni's cafe is undergoing it's n'th upgrade and now sells bread, assorted colourful breadsticks, and freshly made-in-house pies. This is to enhance the freezer display of exotic ice-creams, fancy coffee machine and various fruit squeezing gadgets that mischievously creep into this entrepeneur's optimistic floorplan. We dodge the precariously balanced new plate glass window as owner and mate argue over angles and attitude and purchase a lunch-ish slice of pie.
Returning to Rope Sole we find that our Mister Greek Fixit friend has kindly responded to a request for olive oil. An unexpectedly large can sits shyly under the cockpit table. Next stop bank.