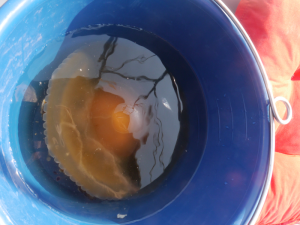 I am currently sitting in the cockpit alongside a blue bucket. It is a very nice NEW bucket…purchase of which necessitated by my careless positioning of the previous one. I had determined to wash away all evidence ( mostly crumbs) of an evening meal last night on deck. Actually it is Jonathan's mooring and he vey kindly invites us to share it now and again…the on deck meal was with him and his lovely partner. Anyway I was sloshing bucket loads of seawater everywhere early the next morning. By breakfast time it had gone….to join the previously badly pegged towel and shorts… many feet under our keel. Oh well, learning is expensive.
Well…the NEW bucket at my feet contains a jelly fish….Cotylorhiza Tuberculata to be precise.
It is huge …at least 20cms across and we now don't know what to do with it. I can tell you that jelly fish do not like bread…unlike the shoals of tiny fish round the boat which fight over every crumb.
We have had an eventful couple of days on the mooring buoy next to Jonathan's Koralia 3. It was getting so hot on the quay that it was a great relief to get some wind out in the bay. Interesting though….a guy who once snarled at us as we came alongside has become very friendly and Simon had a lovely chat with him just before we left.
Now that we are treating being out here as if we had moved into a new area, everything seems to make more sense and we feel less under pressure to perform…awful notion …and more inclined to just be who we are….expecting God to prompt us and arrange coincidences….
On Thursday night we rubber dubbed ashore in the washing up bowl ( it feels that small) to a taverna we went to several times in 2011. The owner had given us her life story back then and we have been praying for her since. When Simon took off his sunglasses she remembered us and called over two waiters as she was so chuffed….( that was on Tuesday when we strolled by for a drink after swimming)
Anyway it was very pleasing to be helped out of the r.dub by a handsome Greek waiter….and then to spend the evening gazing into even more handsome eyes of course!! She does a lovely non- Greek salad which was a refreshing change from the usual fare.
Friday was a fun day….farmers market ( bunches of rocket and whopping radishes) and visiting producers we are getting to know….jobs around town and bumping in to one or two folk here and there which causes a little inner hurrah.
Back on the boat we settled down to an afternoon of entertainment, provided by an Italian wife and Swiss husband aboard an old handsome Hallberg Rassy.
Their anchor had been dislodged by a departing motorboat and they were drifting rather too close to us. After several attempts to explain that it really wasn't our fault…fortunately J was down below as his language can become more ….shall we say, ' definite' in these situations…..as we were clearly attached to a mooring block of 2 tons cement…they finally 'got it' and proceeded to re-anchor.
About an hour later we offered to call a diver for them…and half an hour after that they said yes! J.called his mate.
Half an hour of Greek time…ho ho …later, the diver ( alias taxi driver) arrived and proceeded to unhook the HR from a huge battleship anchor laying on the bottom. We got the impression that the diver sat on the crowded sea bed doing nothing for ten minutes or so…
The day finished on another careless note…with a final burst of enthusiasm I flung open our cabin hatch to allow a full flow of air….we listened as a tumbler simultaneously rattled against the grab handle and flung its contents through the other hatch onto my pillow and mattress. I slept on a towel and we turned the pillow over….another glorious day in Greece.