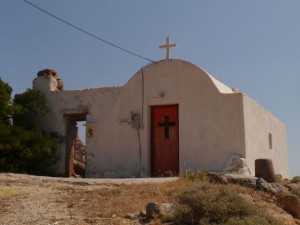 Arriving in the enormous bay in Milos at midnight we motored gently towards the quay and enjoyed the carpet of moonlight all around us. Our hearts were strangely lifted and there was such a strong sense of happiness and joy rising up from deep within the island. We have never encountered this sensation in Greece…it was lovely.
The weekend unfolded and we hired a car to explore the island.This was a straightforward transaction and the return of the car was even easier. 'Just leave it in the car park with the keys in the ignition, this isn't Athens!'
There are several good roads but we ventured 'off piste' and rattled our way to a remote waterside taverna where I had a long conversation with a delightful Frenchman….not sure what either of us said but if the rules are 'not to let on' then we both played impeccably!
Of course we had to find a beach for swimming so settled at the far end of a long emptyish stretch. Dogs are not allowed where people are, so we tend to throw a stick until Kezzie is worn out then put the lead on, hoping she will lie low and not be noticed.
Whilst still at the stick stage a couple of guys came purposefully over and made straight for our bonny hound. After the usual round of admiration and explanation….we discovered that one of the chaps went to Durlston school…just a few miles from our home.
The day wore on and we galloped around in our Fiat Panda, discovering bumpy tracks leading to gorgeous coves and tiny churches perched on impossibly craggy summits.
Plaka is the main town and rises steeply on the Western side. We were happily making our descent, back to the boat for sundown, when a policeman turned us away and redirected us. We motored on down and suddenly encountered a stream of very smart very dark cars with outriders and escorts ….winding their way up.
Back in the boat, after a spot of googling we understood.
This very weekend Milos was to become sanctified as a sacred island. The dark cars contained the Archbishop of Greece and an assortment of Bishops from all over. Here to enjoy some festivities and to conduct the ceremony.
The next day, Monday, saw us curiously observing the despatch of Clerics, back to Athens and the Islands. A huge ferry patiently awaited her honourary guests, who arrived in a rather less grand selection of cars. The Island Police and Port Police of Milos steamed gently as they lined the streets, the ferry flourished noisily from the quay and normality was resumed.