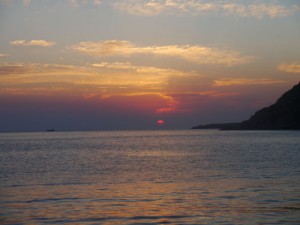 Our last run out to the Cyclades was the usual 12ish hours and uneventful, we happily anchored in Kezzie's favourite bay. For me, 'phew!'
Once the sprinkling of beach devotees had disappeared we took her ashore for a well deserved run. What a sight…our patient little lab who generally takes her Greek exercise 'dans la mere', raced along the hard sand like a bolting colt. Back and forth as though she had a wasp under her tail. Mmm ironic that!
The next day we ventured further into the islands and spent a happy evening discovering the character of a-new-to-us harbour. One little worry was a rapidly swelling red bump on Kezzie's lip. She seemed in reasonably good spirits but was clearly in some discomfort. We googled the problem and slept on the scarey findings. In the Med. insect bites can be very dangerous for pets and our research had inevitably highlighted all the worst cases.
Covering the distance to Naoussa as fast as possible we tried not to worry! Whilst attempting to locate a vet using a very outdated list from the internet and poor reception on the mobile. This proved to be something of a challenge but by mid afternoon I was discussing her problem in sketchy Greeklish with a friendly agricultural vet's secretary on Paros.
After a peaceful (wind) though anxious (mind) night anchored in Mermaid bay  (see May post and photo below) we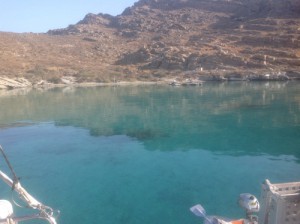 caught the first little bum- boat to the town and positioned ourselves by the bridge to await further telephone instructions for a rendevous with the vet. 'Second bus station above the river,' the mobile rang and the meet was fixed.
At pretty much the appointed time our bearded hero rounded the bend in a little black Suzuki and started his clinical assessment, on the roadside by the bus car park. Only once did we have to retreat a few metres from the gutter otherwise the location suited perfectly.
From a boot generously arrayed with drugs, syringes, bottles, boxes and goodness knows what, our very accommodating expert drew all the necessary components of a cure for the venom of a hornet! Not before squeezing the gob-stopper swelling and revealing a long vicious looking sting. He then extracted the required euros from us.
A lesson for us of course, more vigilance with the electric swatter kindly donated by Abbie and Tim but no lesson learnt by you know who. As quickly as she recovered her expensive ordeal she was busy snapping away at every intrepid flying beast which came near her.
After a well anticipated few days with Christian friends further South, some hearty walks and a few sunset ouzos, we knew it was time to leave. We just hung on long enough for me to spend a wonderful morning with a few island ladies, together representing 5 nations. So humbling to spend a couple of hours worshipping our God and interceding for the nation of Greece with faithful friends. 
However, Simon's vigilant weather forecasting uncovered a  galloping knottage of wind which threatened to stampede across the Cyclades within a couple of days. The resulting churned-up seas would make the return passage very uncomfortable so we started a two day trip back to the Peloponnese for a quieter spot.