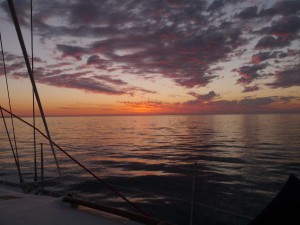 At 18.00 ish Charlie and Simon casually chatted over the sighting of spouting whales, this suddenly became rather alarming as they appeared alongside the boat, Simon instantly ( well that was the plan) stopped the boat to lessen any impact.
What a tease, the whales mischievously dived beneath the keel, emerged the other side and spouted again before disappearing completely…..leaving the guys in need of a beer ( probably!)
May 5 Terry recorded a lovely starry night and fantastic moonrise at 04.40 with phosphorescent dolphins leaping out of the water. Slowly, slowly the port of Almeria was passed.
May 6 more dolphins, moving like green ghosts through the water.
At 08.00 thick fog was recorded, with visibility down to 20-40 metres and no wind, the radar was much welcomed. This persisted through the day finally clearing in the dark clear night which became May 7. At 07.30 Rope Sole was peacefully anchored as everyone waited to enter the marina at La Savina Formentera.